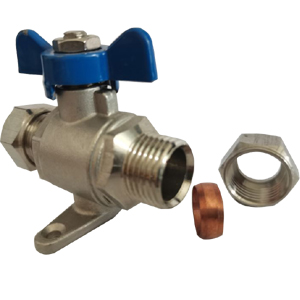 Product name: Card sleeve ball valve with base
Connection method: compression card sleeve
Structural features: card sleeve type
Product material: stainless steel 304/316
Thread standards: G, NPT, BSPT, BSP, DIN
Size of ferrule: Ф6,Φ8,Ф10,Φ12,Ф14,Φ16,Ф18,Φ20,Ф22
Product pressure: ≤1.6 Mpa
Working temperature: ≤120℃
Use medium: water, air medium, etc.
Handle material: zinc die-casting
Handle color: blue, red
Product Description:
The marine ferrule ball valve with a base has a red or blue butterfly handle. The red handle indicates overheated water and the blue handle indicates subcooled water. The marine ferrule ball valve with base only allows one-way flow. This is a rotary valve that can only open and close or adjust the outlet flow. It uses a hollow, perforated and rotating ball to control the flow through it. When the hole of the valve ball is consistent with the flow direction, the valve ball opens; when the valve ball is rotated 90 degrees by the valve stem, the valve ball closes. Card sleeve ball valves with bases are widely used in sanitary kitchens, ships, trains, etc.
This content is reproduced https://en.kataoqiufa.cn/
(责任编辑:超级管理员)